A quick way to spoil a model in Autodesk® Revit® is to dump lots of DWGs into it. This will create all sorts of issues with bloated file size, low model performance, high chance of model corruption, distorted view extents, rounding errors and graphical glitches, to name a few!
THE CHALLENGE
Can't we can just remove these DWGs then? Not quite, as with out-of-the-box Revit:
.
You can't see all linked & imported CAD files!

Imported DWGs don't show in Manage Links. They clutter up Imported Categories instead. Here, there is no way to find or delete them. Good luck finding them manually; they can be hidden, not loaded or just lying outside of the view' crop boundaries!

It's hard to check if a "Current view only" DWG is redundant.

There's no quick way to tell if these are still visible in their parent views to delete them if necessary.

You can't purge linked or imported CAD files by type!

Even after you have deleted all copies of a DWG, its type may still linger in Imported Categories under Vibilities & Graphic.

You can't quickly find loaded families with nested CAD.

 Such nested CAD files, sometimes under several nesting levels, can also show under your project's Imported Categories under Vibilities & Graphic tabs.
OUR SOLUTION
CAD Files  Explorer addresses all these 3 shortcomings:
.
You can instantly see all CAD files in your Revit project or family. These include DWGs as well as any other CAD file types Revit accepts such as DXFs, DGNs, SKPs or SATs. Each file will show if it is linked or imported, independent or view-specific. View-specific CAD files will show if they are still visible in their host views. If not, you know what to do!
You can instantly select & show each CAD file in its view, delete it, or list all views & sheets where that file is visible.The app can then instantly open each of these views & sheets and zoom to the CAD file in question for you.
You can directly delete CAD file names that show under VG > Imported Categories which may still be there even after you have removed all their copies from the model. This is also the quickest way to delete multiple copies of the same CAD file from Revit.
You can delete object styles resulted from someone exploding a CAD file in Revit. This will help reduce the negative impact of exploded DWGs on your model performance.
You can quickly scan all loaded families in the project to find nested CAD files at any nesting levels. Our addin does NOT modify your families or project during this process.
The short clip below shows how easy it is to use Family Scanner to quickly remove DWG files from your Revit's "Imports in Families" group.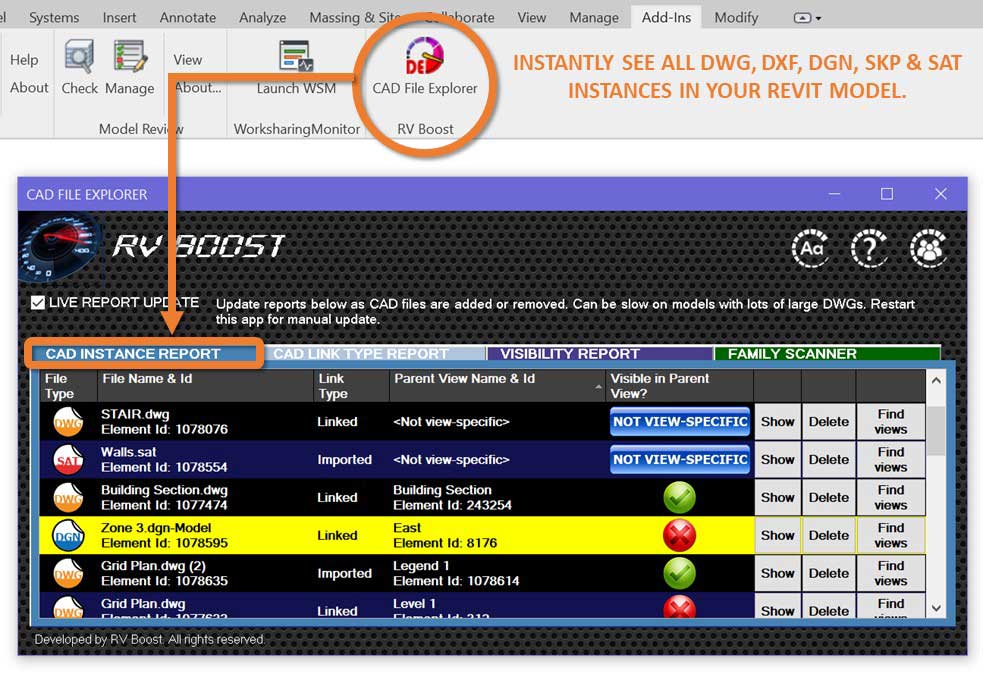 To sort the report by a property, simply click on a column header.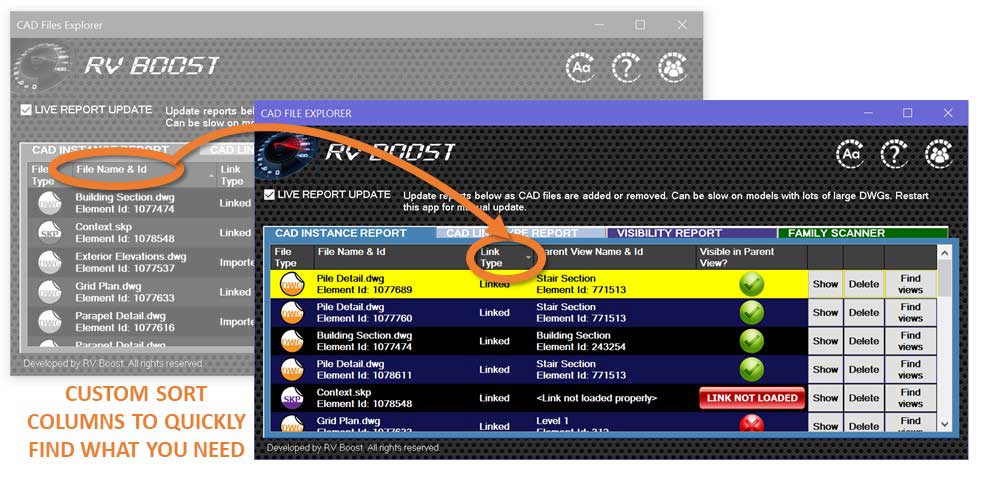 Click SHOW to select a CAD file & see it in a good view.
If you know for sure a CAD file shouldn't be in the model, click Delete to remove it immediately. No need to know where it is or selecting its beforehand!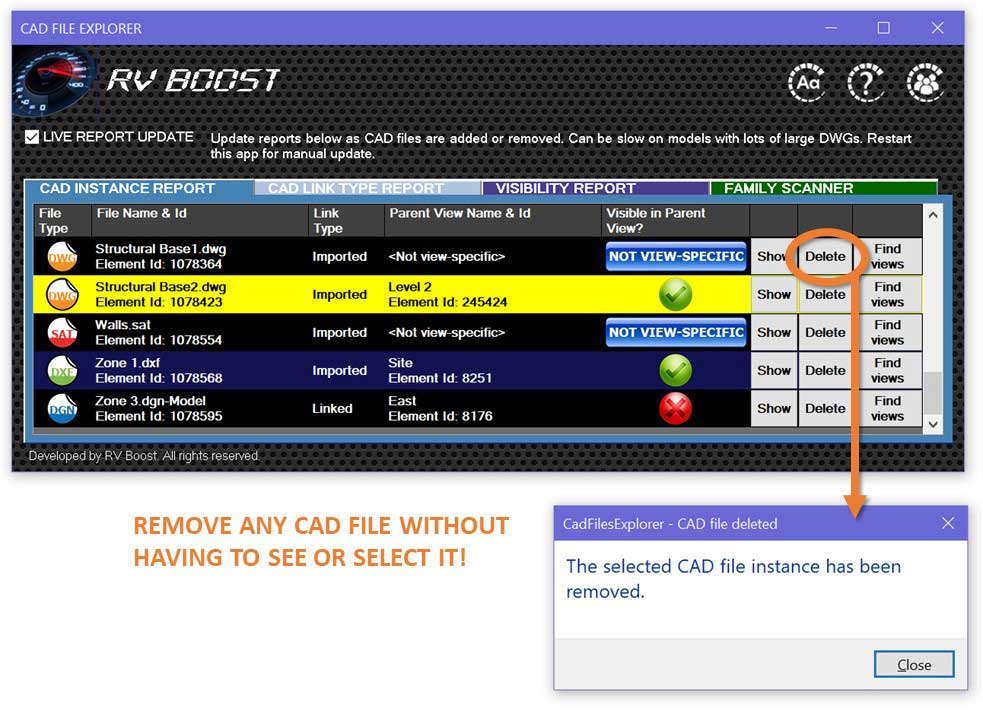 This is also how you can spot & delete Revit object styles resulted from someone exploding a CAD file while in the model. You will recognise these in our report by their exclamation mark icon in the File Type column. Another way to tell is if their names follow this format: [Original CAD file name].[CAD layer name]. These styles usually come in big groups as they are traces of a few same CAD files: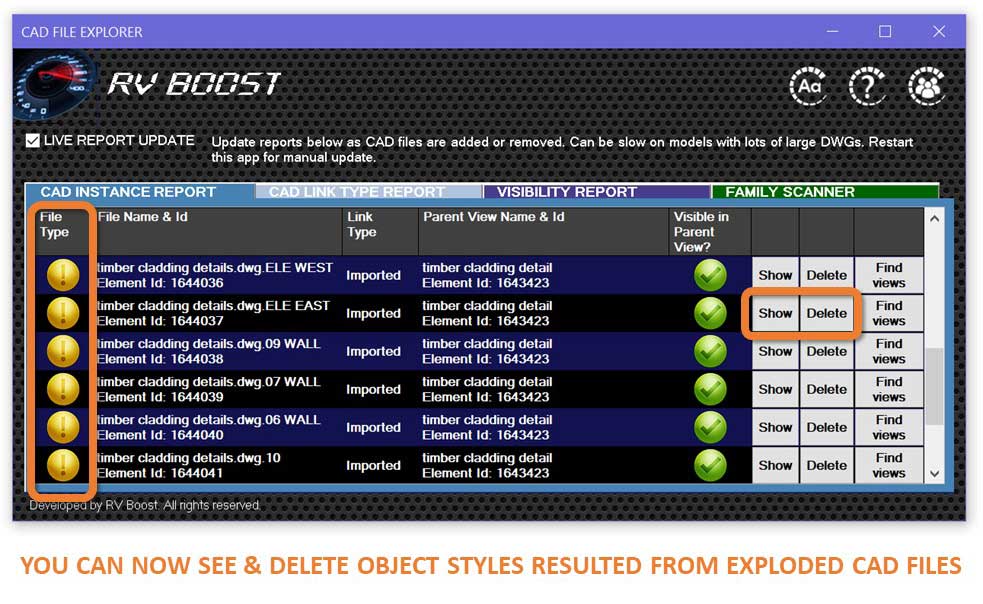 If you want the report to update as CAD files are added to or removed from the model, keep the "LIVE REPORT UPDATE" box checked. In big Revit models with lots of views and CAD files, you may want to clear this to reduce disruptions every time CAD Files Explorer re-scans the model.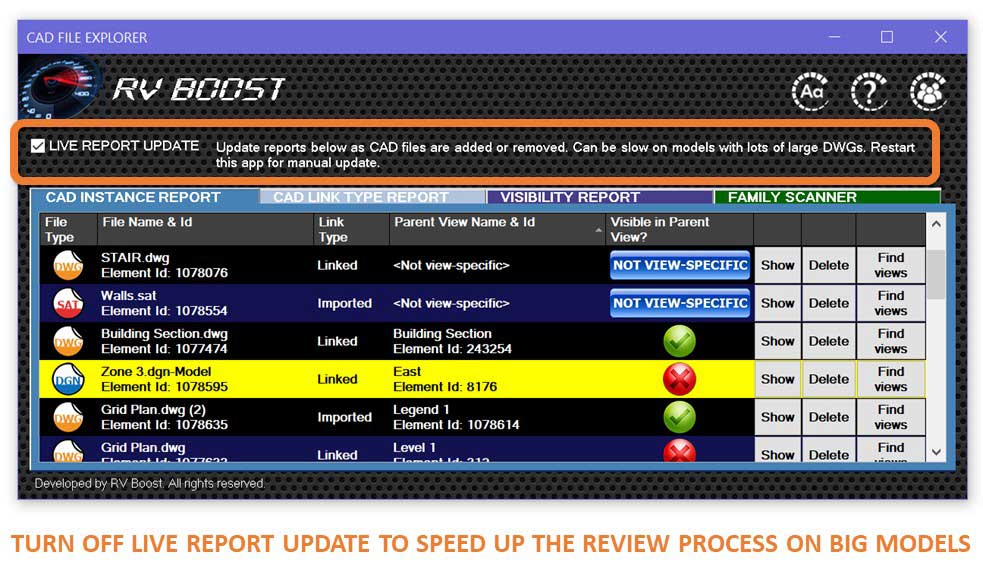 To see which views and sheets show a particular CAD file, click the Find Views button on its line. You can then click the Open View button to open a view from the visibility report and have Revit automatically select & zoom to the CAD file in that view. Similarly, clicking the Open Sheet button will make Revit open the sheet containing the view of interest and select & zoom to the corresponding view port on that sheet.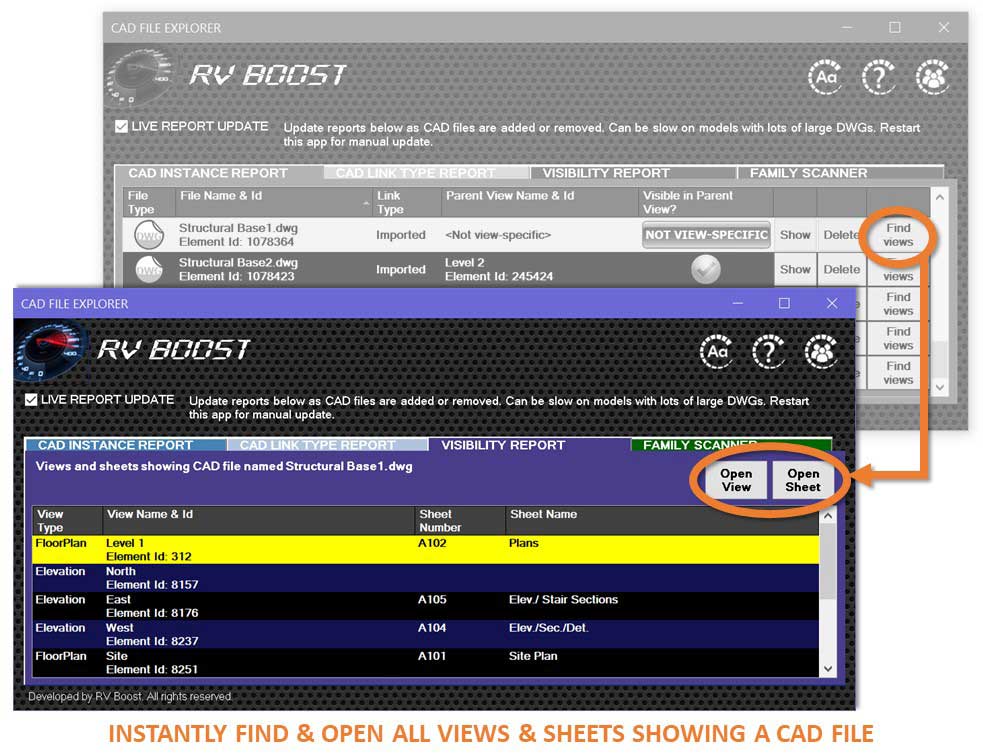 To review CAD file types, switch to the second tab, CAD LINK TYPE REPORT. Here you can see on each line a CAD file type, the number of its instances in the model and then a button for deleting it.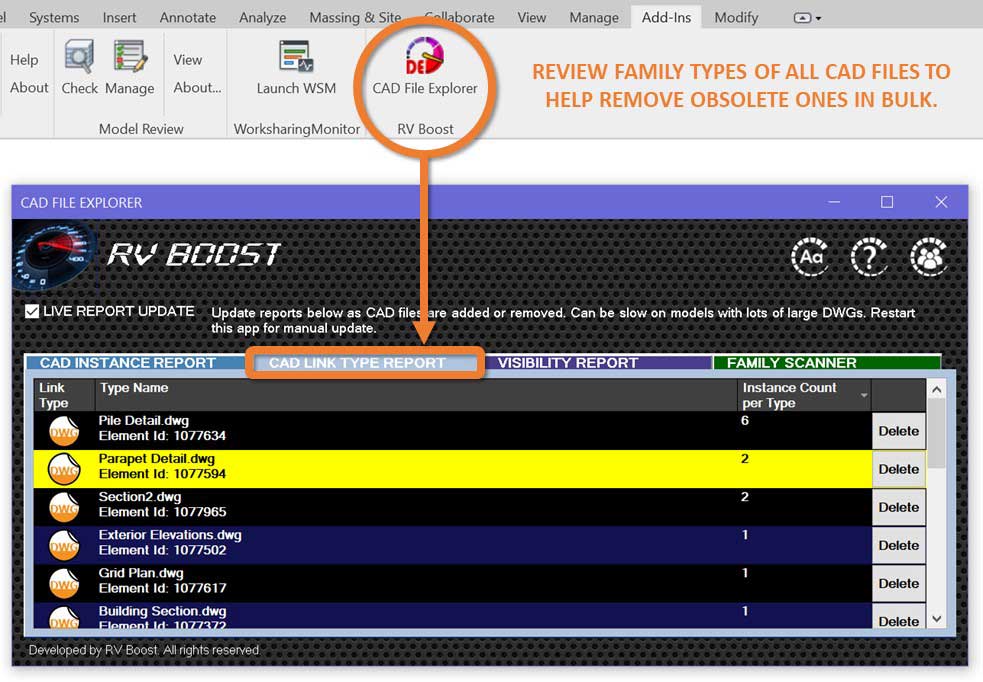 You can, of course, undo the delete if necessary.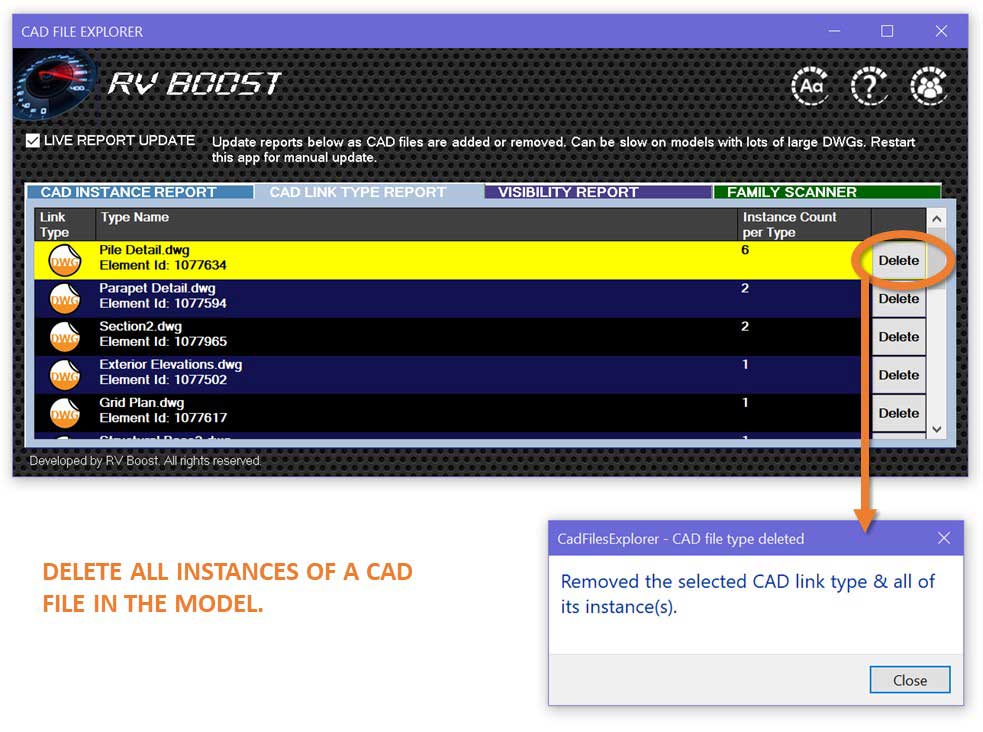 The last tab, Family Scanner, helps you find CAD files imported in random families in hundreds of those loaded into your model. No longer do you need to open each one and check it and all its nested families for DWGs. Simply click Scan Families and our addin will check all families at any nesting level for you. For example, if family A is loaded into family B, family B loaded into family C and family C loaded into your project, all three families A, B & C will be scanned!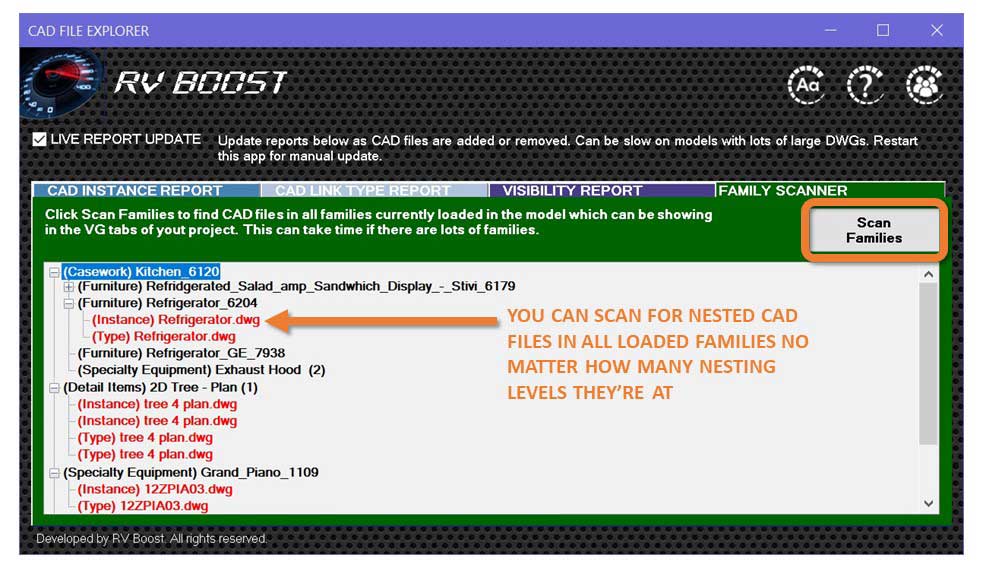 Once completed, the scan will list only families with imported CAD. The tree view will show each family as an expandable branch to clearly present its nesting levels. Detected CAD files will be highlighted in red. These can be CAD file Instance or CAD file Type which the tree will clearly show. You can then simply copy the host family's file name to search for it in your Project Browser to then open and clean it.
That's all you need to master DWG Explorer or now known as CAD File Explorer! Let us know any questions you may have at support@rv-boost.com.
Autodesk, the Autodesk logo, AutoCAD and Revit are registered trademarks or trademarks of Autodesk, Inc., and/or its subsidiaries and/or affiliates in the USA and/or other countries.