RV BatchTransmit: Export Multiple Revit Models to Different File Formats
Does it take you hours or even days to manually export lots of Revit models to RVT, NWC & IFC files? It doesn't have to be this way!
Anyone working in BIM will know well the mundane task of issuing their Revit models to multiple file formats. At the same time, we have to make sure export settings are consistent across one or multiple projects. Assuming there was no human error, clicking the same buttons for 10, 20 or even more files is just counterproductive. There must be a quicker way to build these federated models!
Would it be nice if you could just define your export settings once, list all models you need to issue, click a single button, and then become free to do something else while Revit produces all required files for you? Well, dream no more. Follow simple steps below to make the model issue process truly automatic!
STEP 1- GET RV BATCH TRANSMIT
If you haven't already:
Get a completely free trial here or using the button below,
Install this Revit plugin,
Open Revit & run RV BatchTransmit from the Add-Ins tab.

STEP 2- SELECT MODELS TO BE ISSUED
Use the "Add Files" and "Remove Files" buttons as needed to build a list of all Revit models you want to export. They can come from any folder on your computer or company network.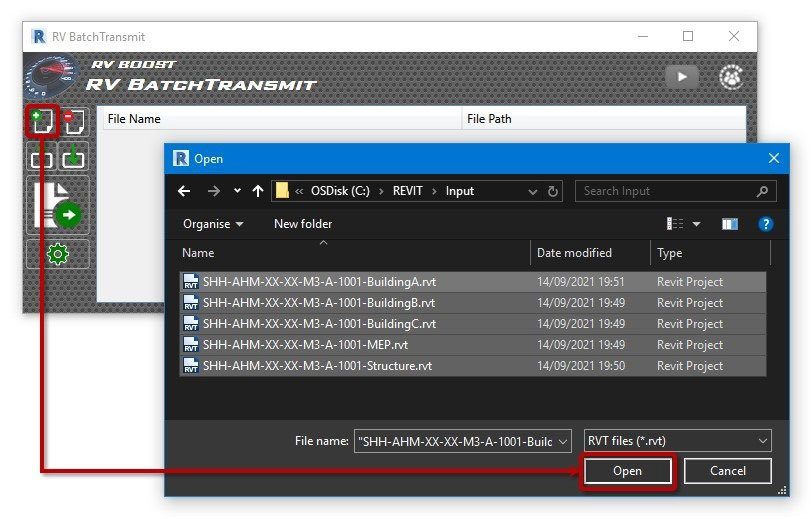 STEP 3- SET EXPORT OPTIONS
Right below the file selection area are handy tabs for configuring your export options, each for one file format. We currently have Revit, Navisworks NWC and IFC, with other formats such as Autocad DWG coming soon.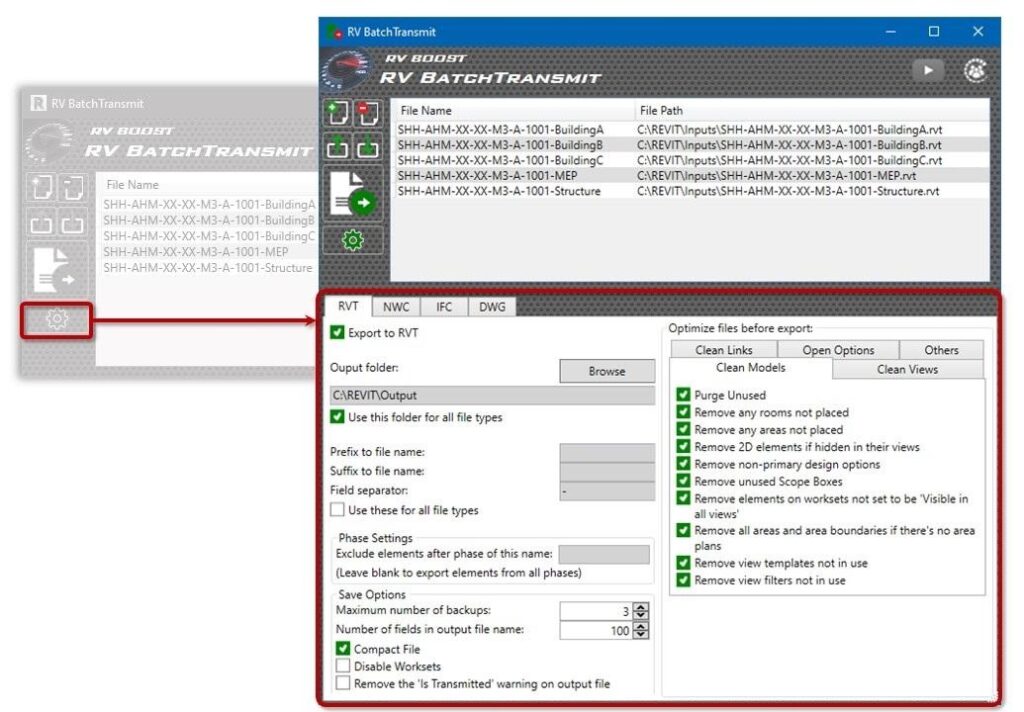 Each tab is slightly different, yet they all have sections to help you set:
Output file location
Rules for naming output files
Other export settings specific to each file format, such as Navisworks files should use shared coordinates. All settings you can define when exporting manually will be available here.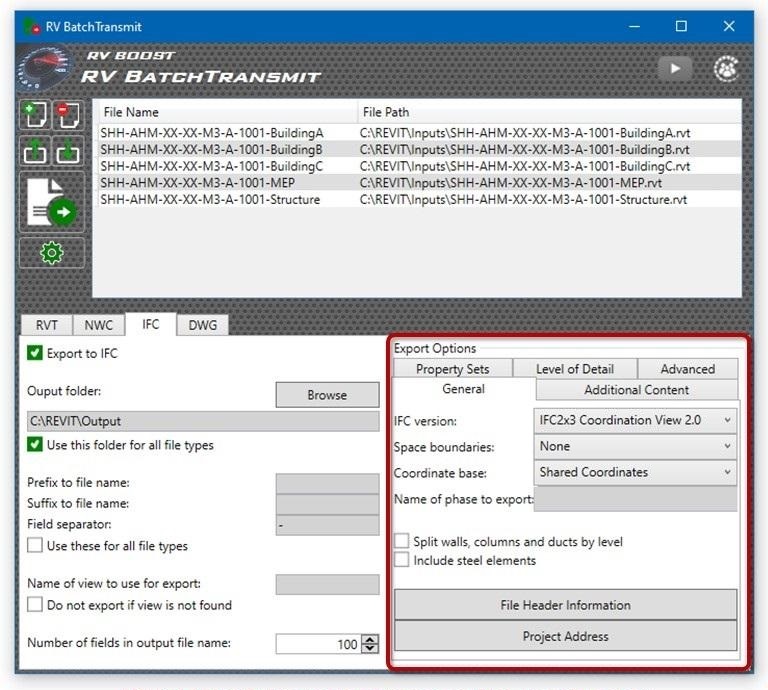 For exporting to RVT files, RV BatchTransmit provide options for cleaning your Revit files. Want to delete all DWG or Revit links? Purge Unused 3 times? Delete all views and sheets? Whatever routine you need to perform on each file can now be automated for all models on your list!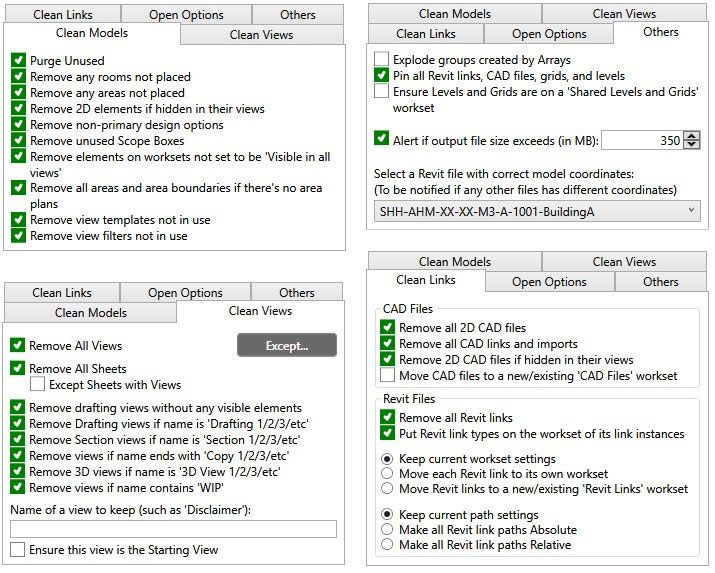 STEP 4- CLICK "TRANSMIT" AND GET YOUR COFFEE!
Once you're happy with all settings, click "Transmit" and Revit will gradually export each specified models as directed. In the pop-up process window, RV Batch Transmit will show exactly what Revit is doing at any point in time, as well as highlight any errors worth mentioning.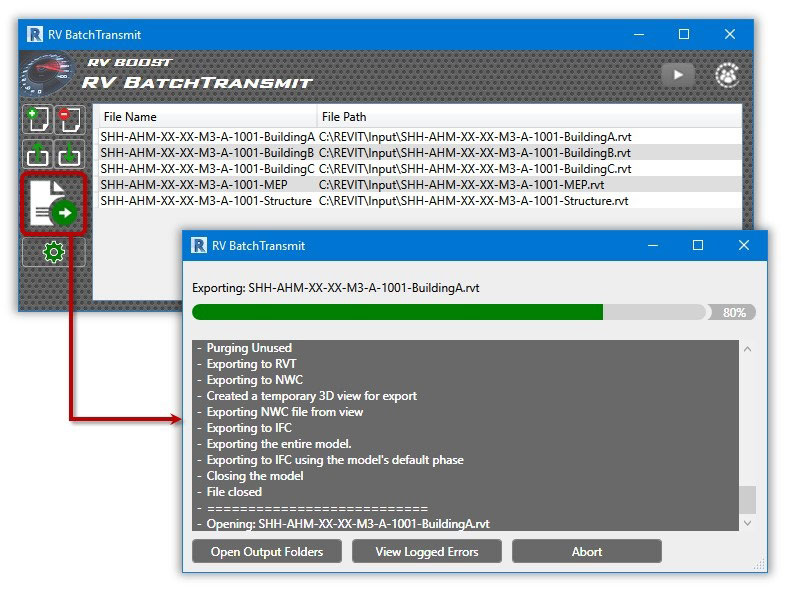 Our users enjoy this step the most. It's just so pleasing to do something else more important for you or your team, and glance to the report from time to time, feeling great about not having to do any of these repetitive tasks manually!
You will notice that RV BatchTransmit can open your files much faster than doing it manually. This is thanks to its options to avoid loading CAD and Revit links, as well as automatically dismissing all minor warnings that can occur during file opening.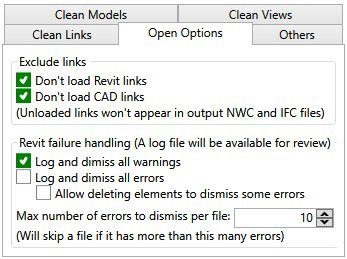 STEP 5- REVIEW AND REPEAT
Once all is done, you can review the completed transmittal log to confirm RV BatchTransmit has exported all required files. If you choose to also dismiss errors, make sure to review any failure or Revit element removal by clicking on the "View logged errors" button here. If anything seems wrong, simply change some export settings, then re-export only Revit files with problems.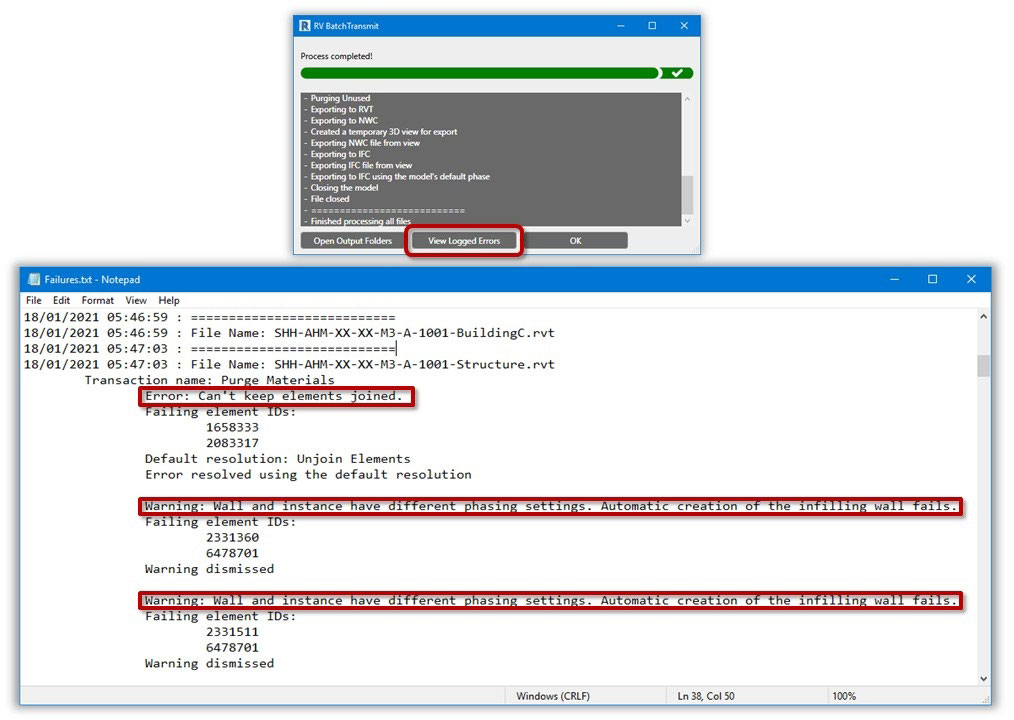 Finally, you may want to save the current file list and export settings to use for the next round of issue. Simply click "Export Settings" to save all your configurations to a file.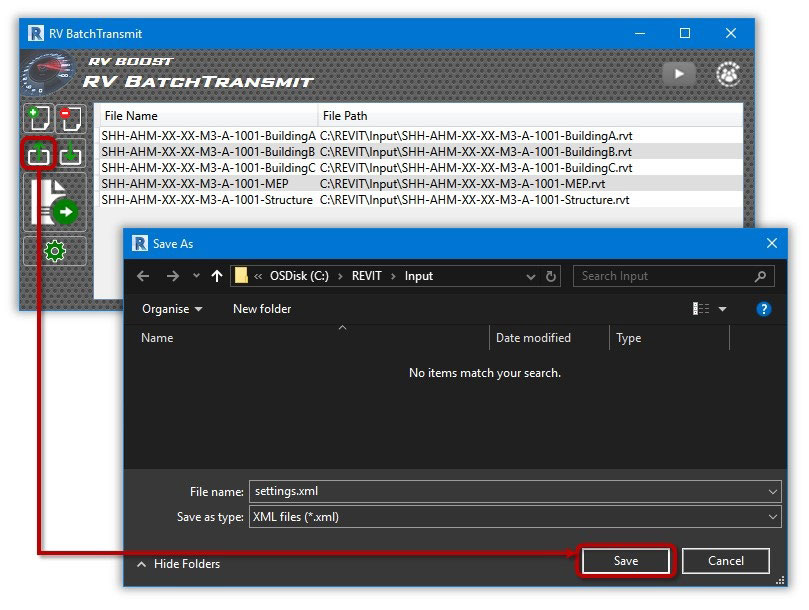 Next time when you need to issue the same set of models again, simply open Revit, fire up RV BatchTransmit, click "Import Settings" and voila, all your configurations such as which files to export and which export settings to use, will be restored.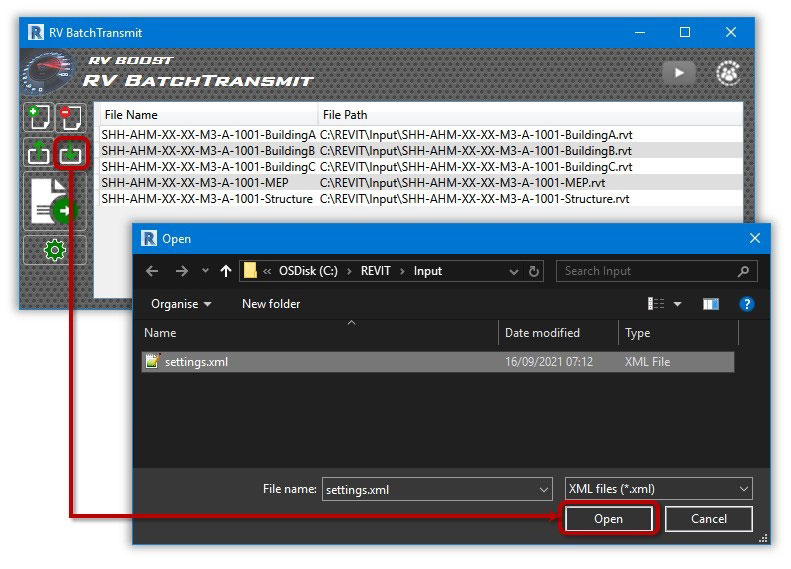 You can then click "Transmit" again, and considered the task done!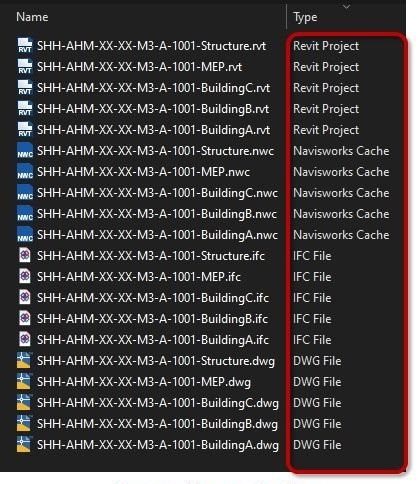 Like what you see? Why not try RV BatchTransmit completely for free? The button below will save you a lot of time on all of your Revit projects, so we highly recommend giving it a try!
Want to clean up your Revit models even more before file transmit?
How about over 40 more ways to clean up your Revit files, all in one place, and can be performed with one single click?
Like how that sounds? Then check out RV DeepClean here, completely for free!
Need more tips?
Check out below our free Revit training channel on YouTube!