Create Revit tree with scalable 2D plan & elevation symbols.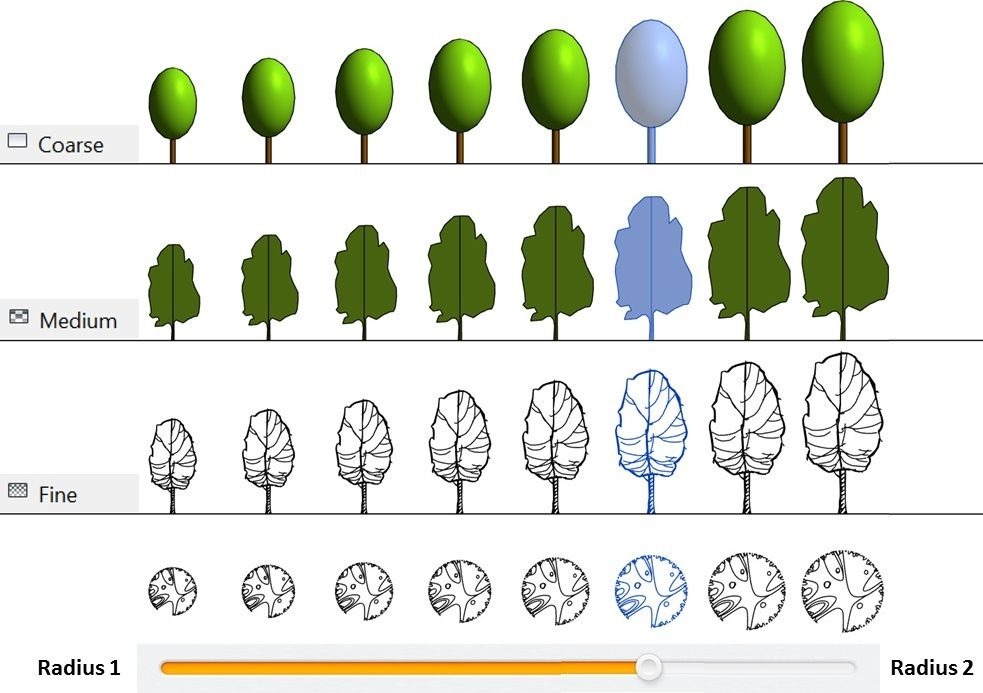 Hate duplicating Revit family types just to make some trees bigger? Getting sick of their dull look? Wish you could change their radius and height independently from each other? Stop dreaming; we have the only Revit tree family you will need (most of the time)!
This tutorial will show how to create this smart tree so you can:
Change tree height and radius independently from one another using

instance parameters

. No more endless lists of identical tree types!
Show in different levels of detail distinctive tree annotation, from blobs to detailed components. A 3-for-1 bargain indeed!
Use any tree plan and elevation symbols of your choice. Once integrated properly, they will scale with the tree and help bring your drawings to life!
Choose to render either the tree's family geometry or RPC appearance simply by changing the view's level of detail. Make it as symbolic or realistic as you like!
EXPECTED OUTPUT

Our smart tree family will have the below key attributes:
Category
Planting. Your current Visibility & Graphic settings or tree schedules will continue to work.
File size
2.15 Mb, tiny for a 3-in-1 tree with DWG-like annotation!
Available parameters

Tree Height
Crown Height, Radius & Material
Trunk Radius & Material
Cardboard Tree Material (show only in shaded mode. Realistic or Ray Trace mode will show the RPC render appearance of the cardboard tree).

Levels of detail

At Coarse: Show tree elevations as 3D solids.
At Medium: Show the Revit cardboard 3D tree which can be rendered.
At Fine: Show custom 2D tree elevations of your choice.
At all levels of detail: Show a custom tree plan symbol in floor plans.

Or, follow steps below to make one yourself. You will need intermediate-level Revit knowledge.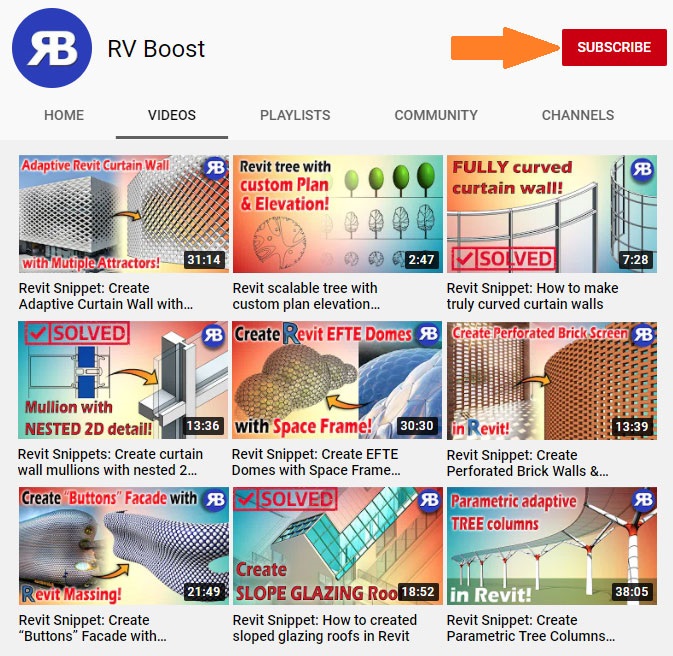 STEP 1: FIND YOUR FAVOURITE 2D TREE PLAN AND ELEVATION SYMBOLS
Yes, you heard it right. Pick any tree annotation blocks of your choice. We can use up to 2 tree elevations, one for the Front/Back view and one for the Left/Right view.
For this tutorial, we picked our favourite blocks from the AutoCAD library and exported each to a separate DWG. If yours is in another format, make sure to convert that to DWG first.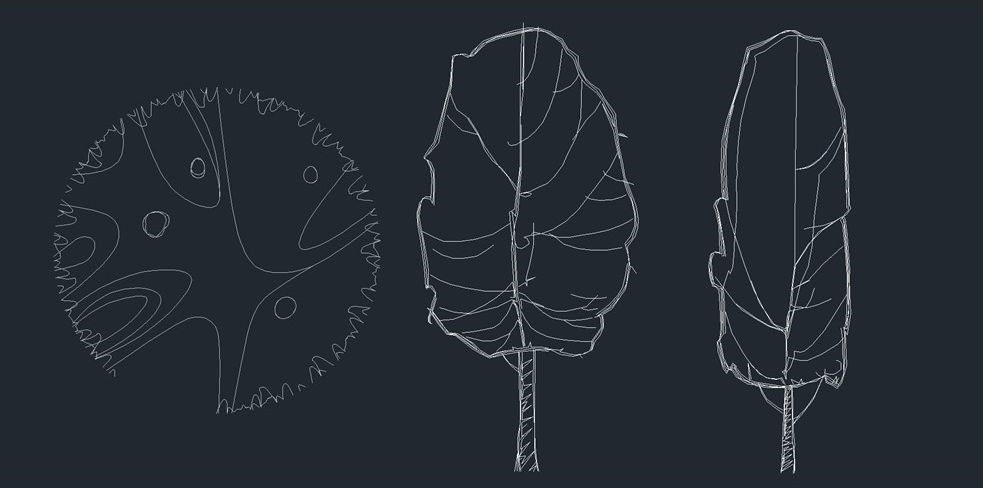 STEP 2: CREATE 2D TREE ANNOTATION FAMILIES FOR REVIT
For each custom tree plan or elevation, create 1 new Revit planting family.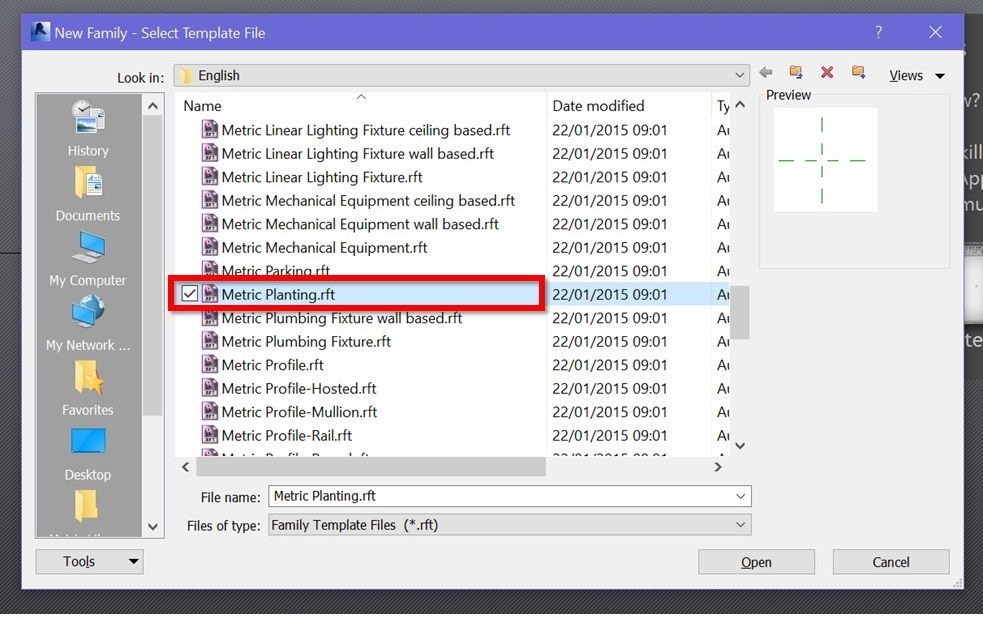 Import the tree plan or elevation DWG and place it in a Floor Plan or Elevation, respectively.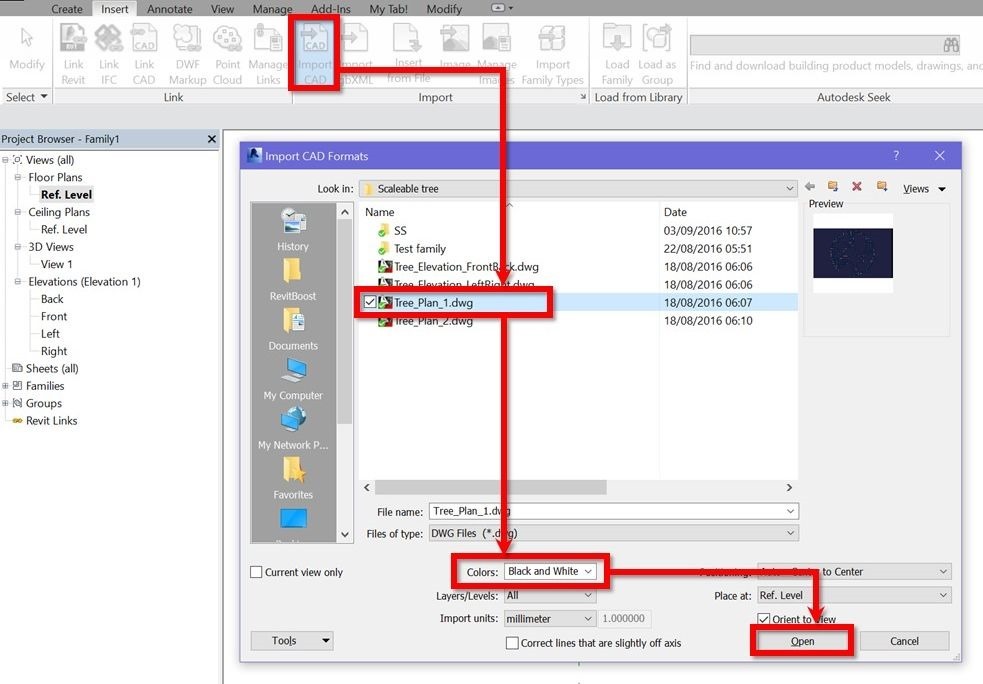 STEP 3: NEST 2D PLAN & ELEVATION TREE ANNOTATION FAMILIES INTO A NEW REVIT PLANTING FAMILY
Create a new Planting family using the same Revit template. Save it as "Tree Base".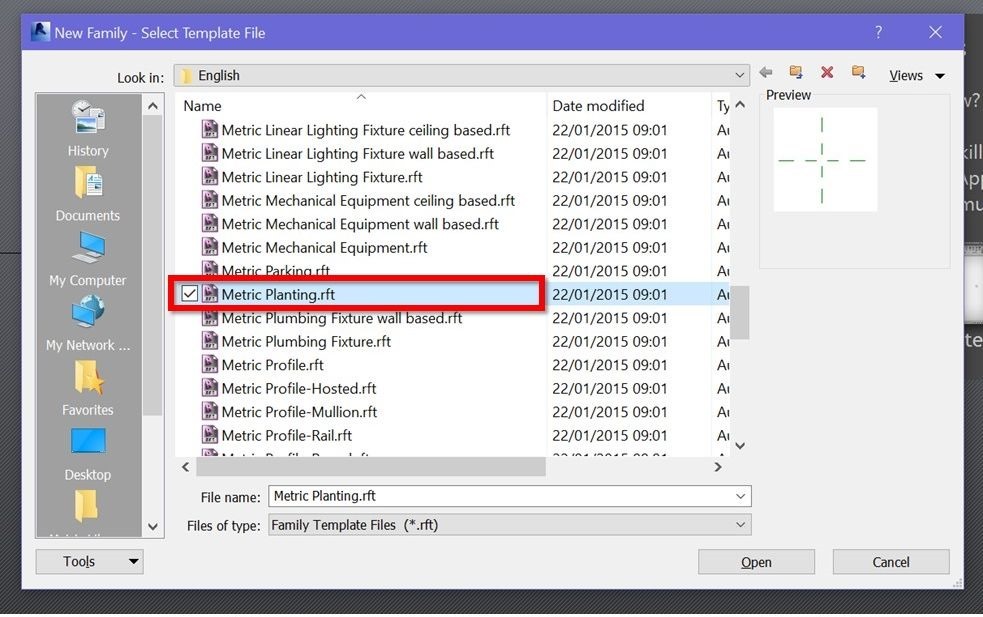 Load each of the newly created tree annotation family into "Tree Base", essentially turning them into a "nested" entities.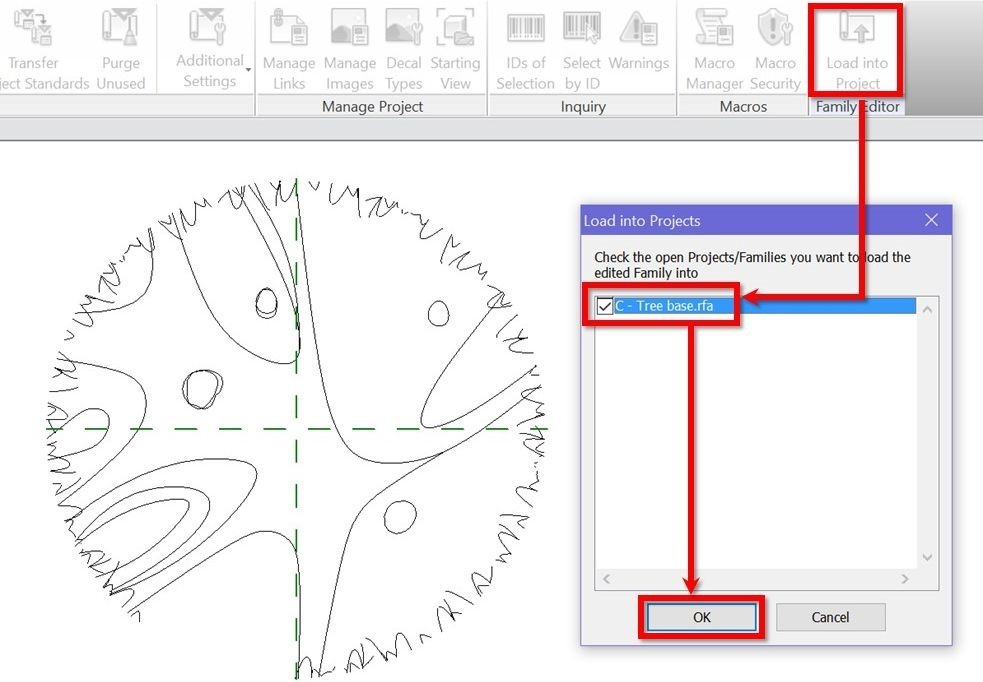 When placing the nested family in "Tree Base", do so in a plan view where the 2 default reference planes meet.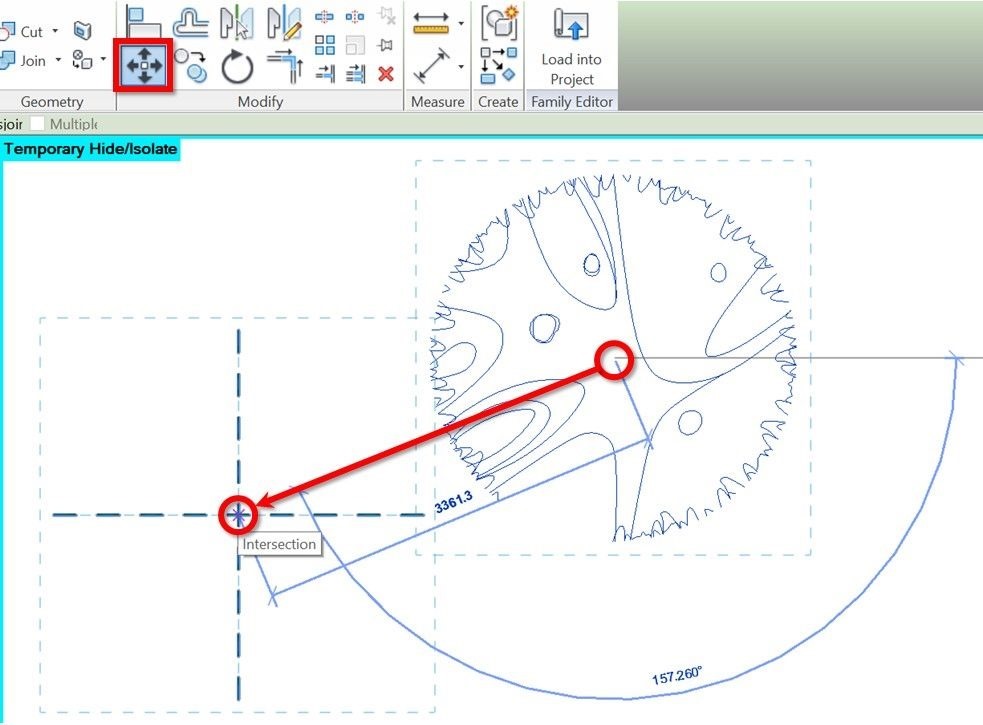 STEP 4: SET UP 2D REVIT TREE PRESENTATIONS AT MEDIUM AND FINE LEVELS OF DETAIL
Select 2 nested tree elevation families and change their Visibility Settings as below: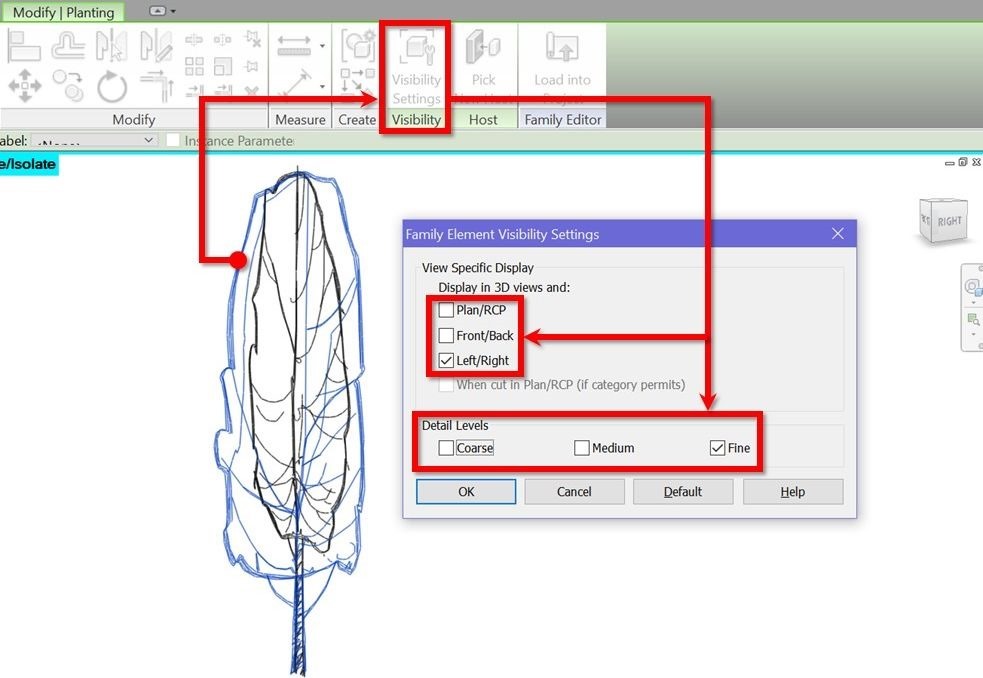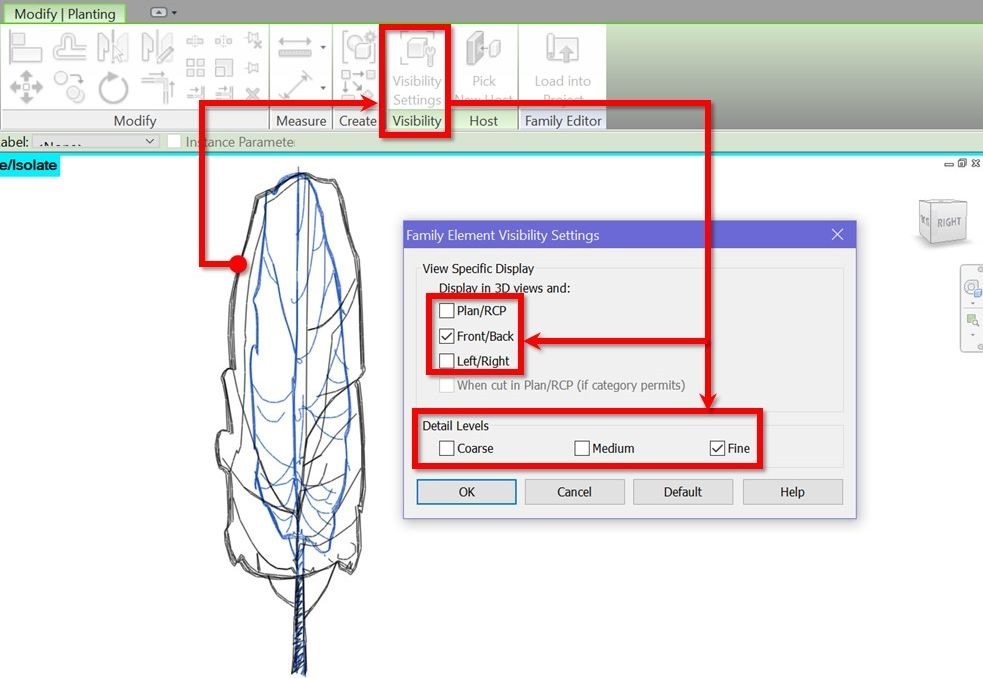 This way, they will show only at the Fine level of detail. At Medium, we will show the Revit default cardboard tree so that the tree can be rendered to RPC: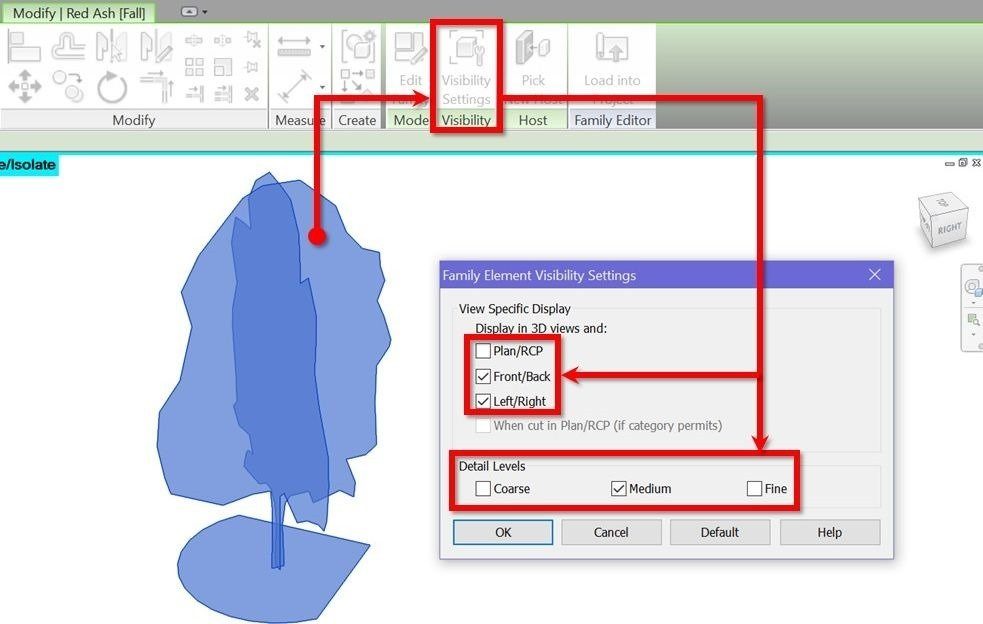 STEP 5: NEST THE COMBINED REVIT PLANTING FAMILY INTO A GENERIC MODEL FAMILY
Create a new Generic Model family and name it "Placeholder":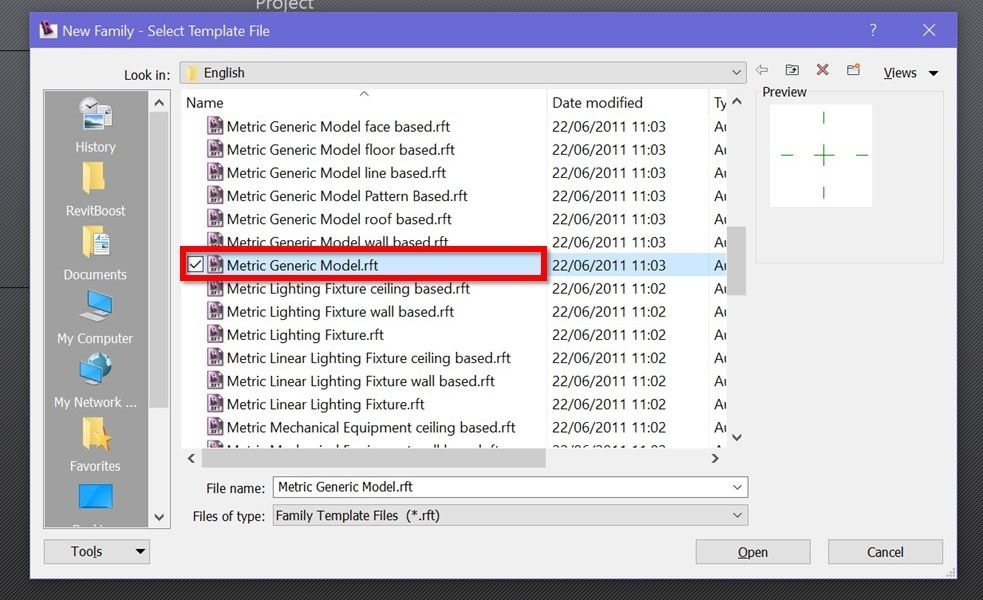 Then, nest the Planting family into this new Generic Model family: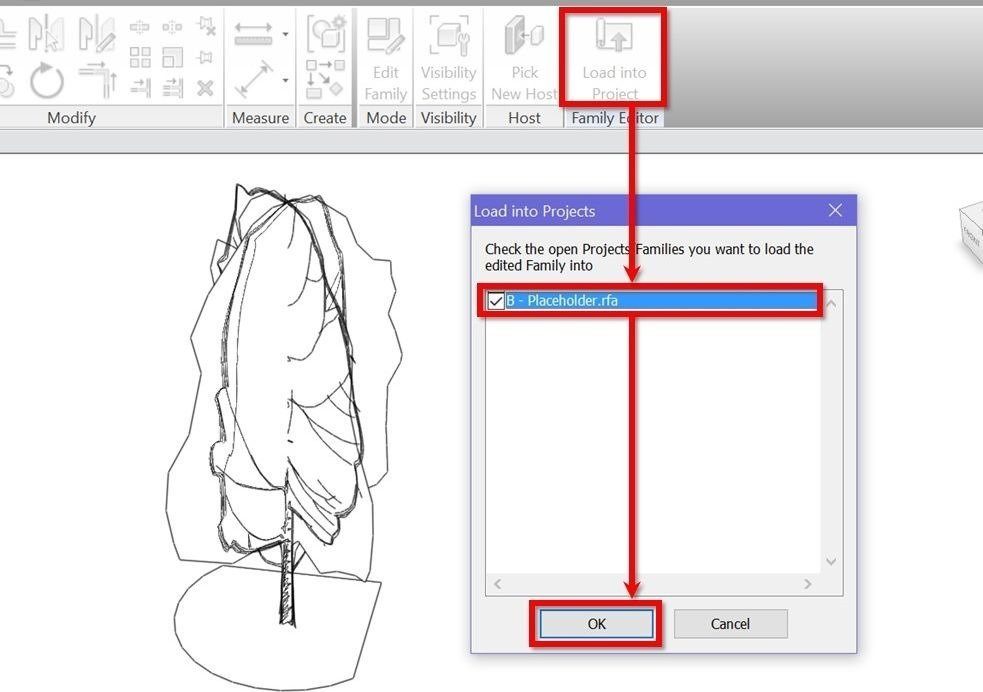 STEP 6: NEST THE GENERIC MODEL FAMILY INTO A FINAL REVIT PLANTING FAMILY
At this point, we have a Generic Model family. It now needs to be nested into a new Planting family called "Tree with instance Radius parameter" to have the complete family reported under the correct category: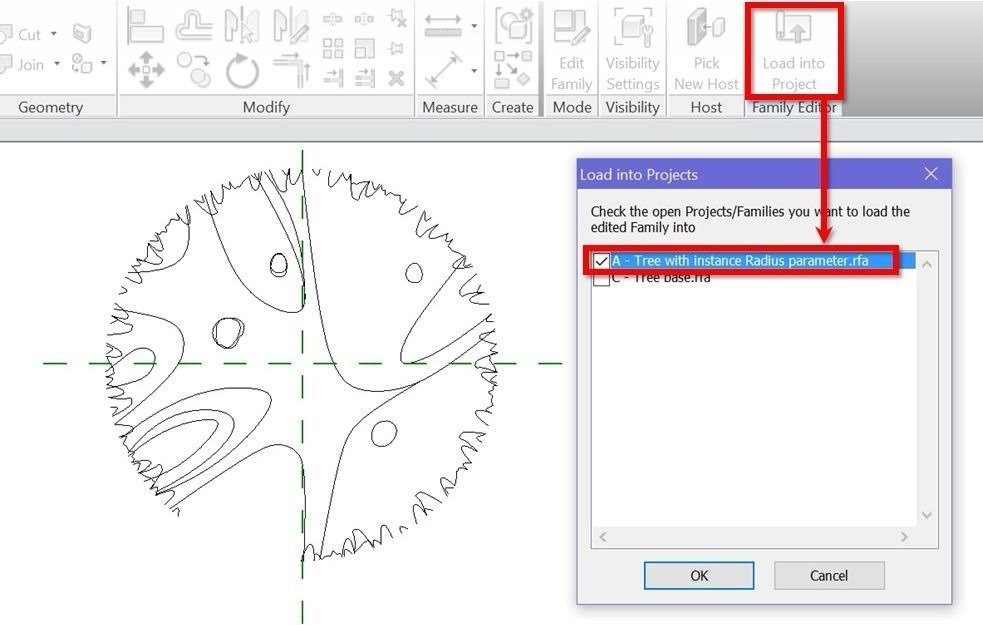 Next, create in this final family new parameters for tree crown radius . Link these to those with the same name from the nested Generic Model family.
STEP 7: CREATE 3D REVIT TREE PRESENTATION FOR THE COARSE LEVEL OF DETAIL
If you still remember, we have set up our tree's 3D appearance at Medium and Fine levels of detail. For Coarse, we will simply show the tree crown as an elliptical solid revolve and its trunk as a cylindrical solid extrusion. To aid setting constraints on these 2 new solids, create 2 reference planes to control their positions: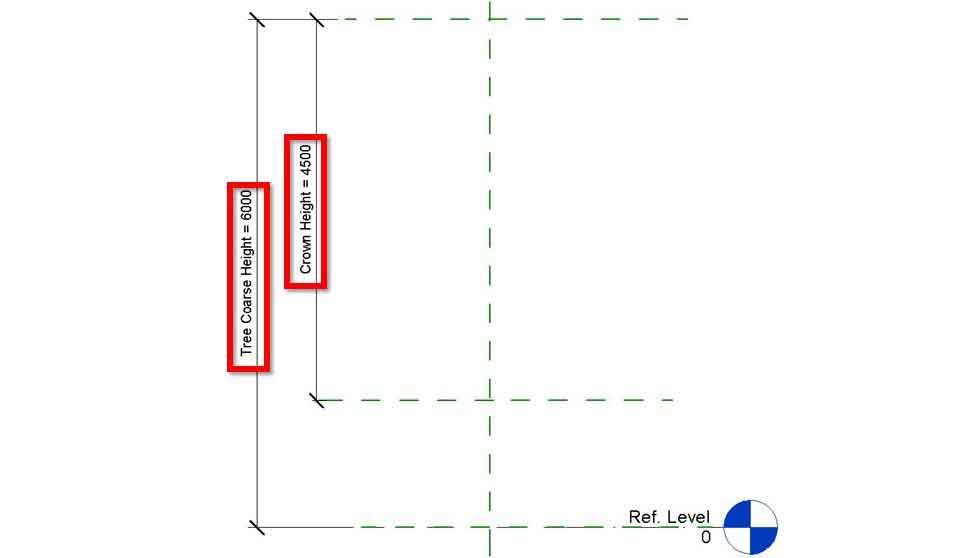 Create the tree crown using a solid revolve: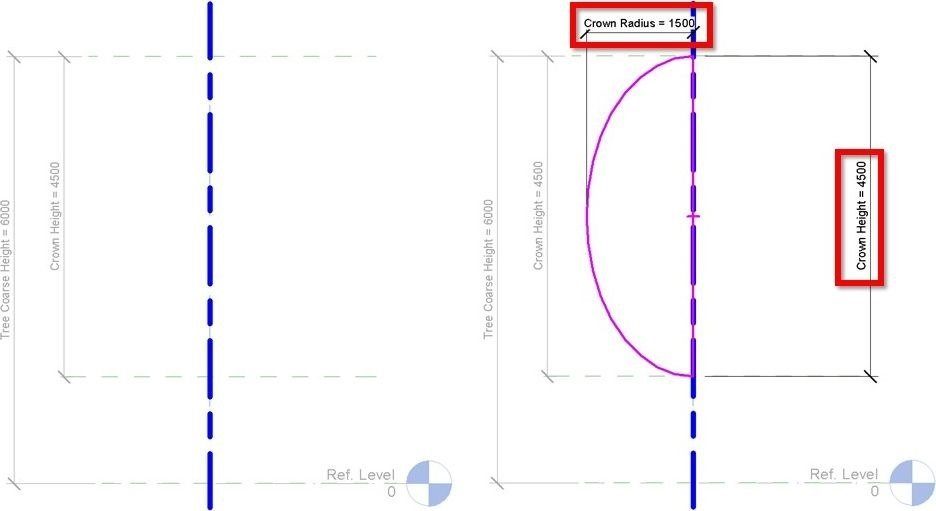 For the tree trunk, simply create an extrusion with a circular profile and top and bottom faces locked to appropriate reference planes. Create a new parameter called "Trunk Radius" here to control its size.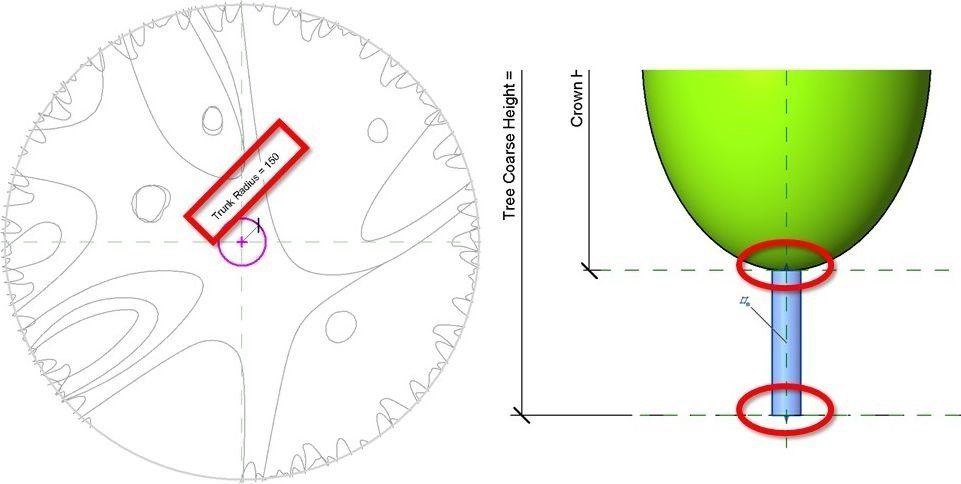 SHOW TIME!
Load the complete family into a new Revit project and let it shine!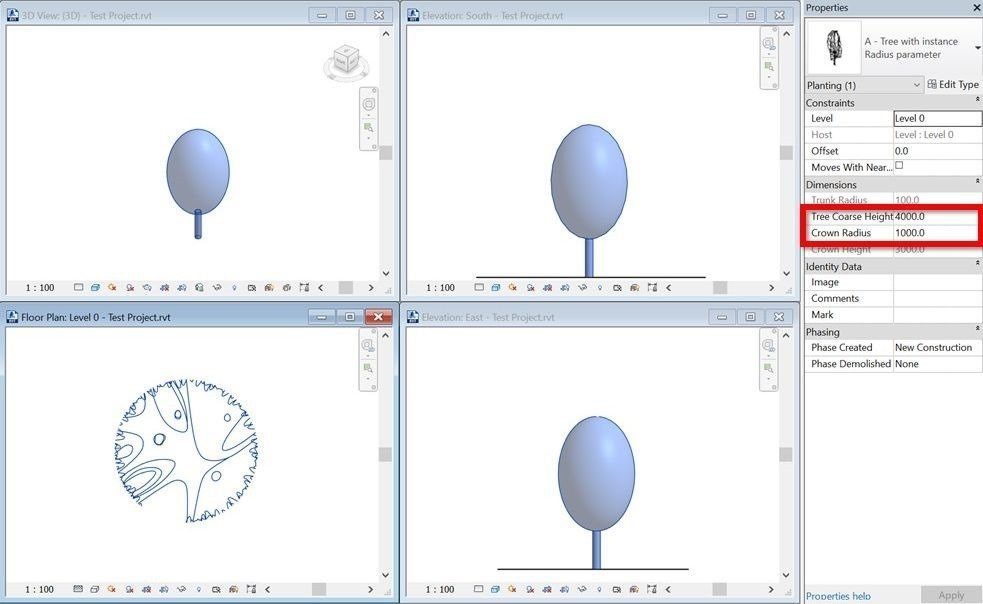 Try to change the tree's radius which will flex independently from its height: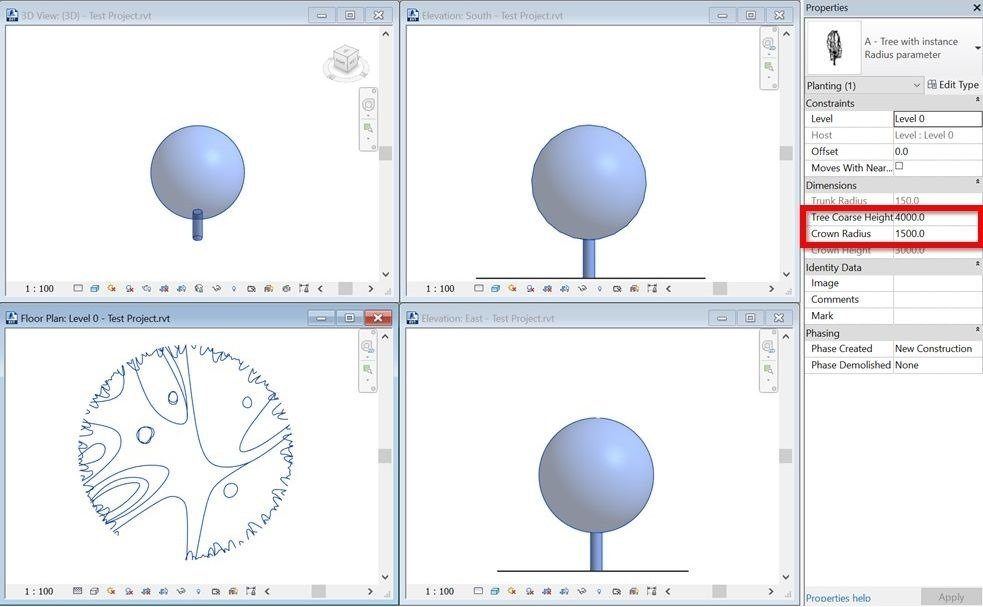 The tree's height, in turn, can be updated without affecting its Radius: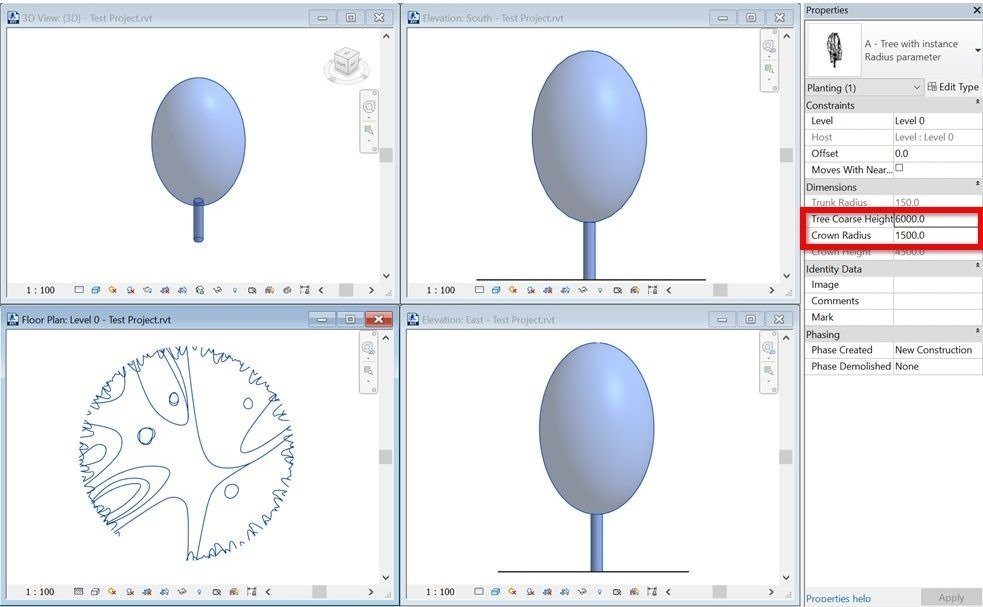 Change the level of detail to Medium and see the good all cardboard tree!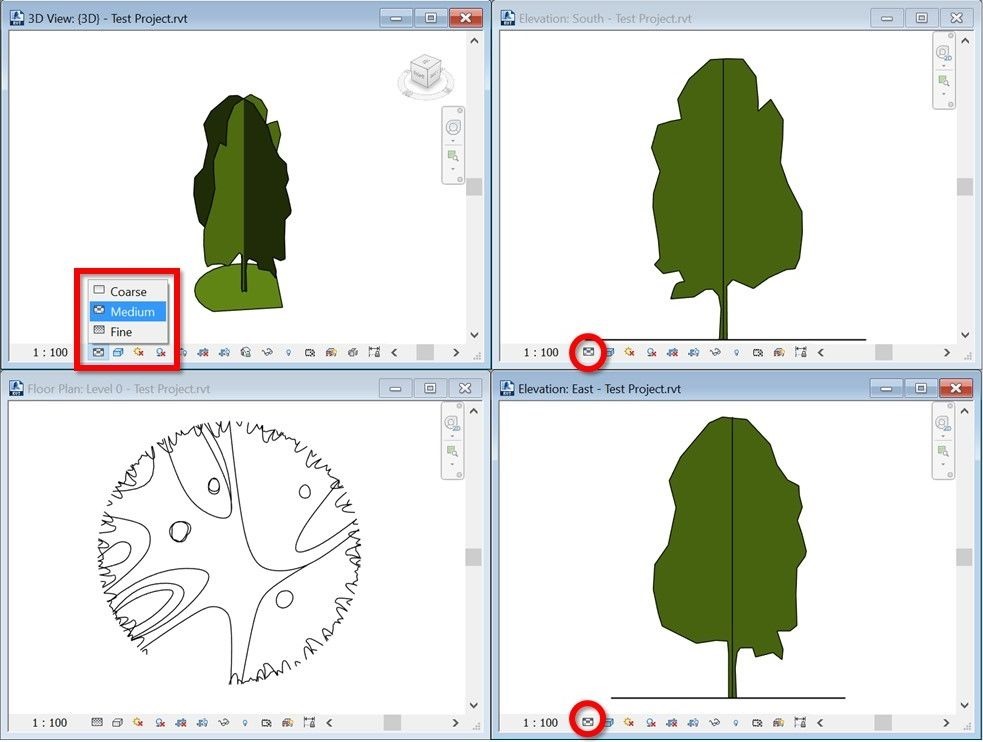 We keep it so that the tree can still be rendered. Switch the view mode to realistic to confirm: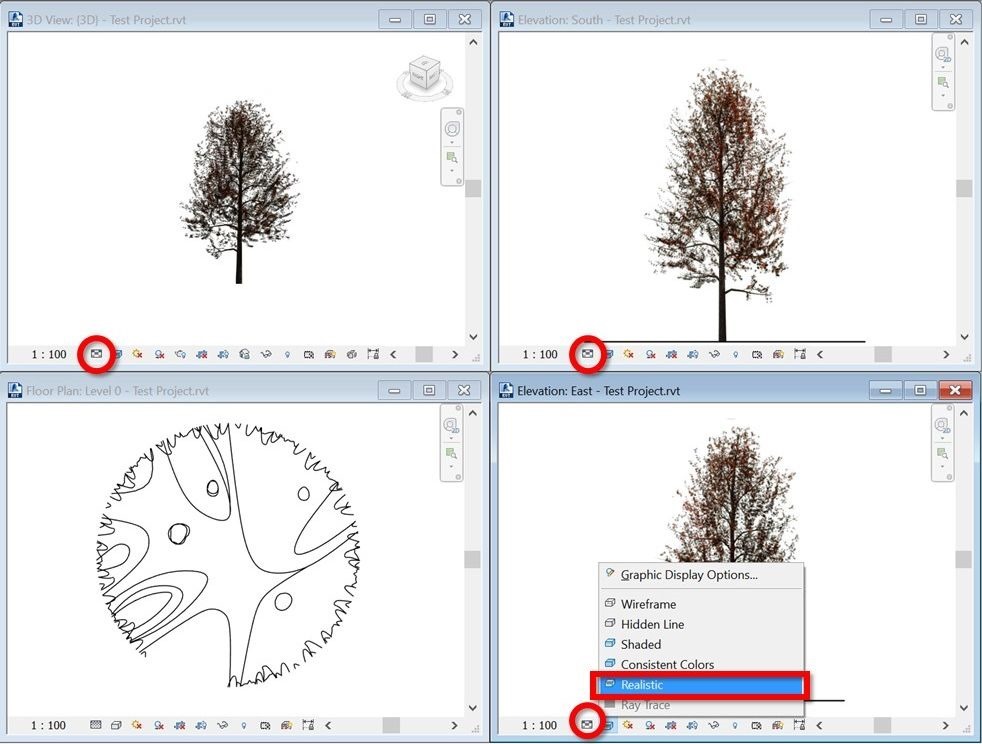 Anyway, the tree is best shown at the Fine level of detail. Perfect for an artistic impression!
If you want a different tree plan or elevation symbols, simply return to step 2 and replace the imported DWGs.
Apparently, having DWGs in Revit families is not recommended. Although we need them here to overcome limitations Revit has for Planting families, it's still crucial to only have include DWGs we need and remove all the rest. To do this easier in both Revit project models and families, get a free trial of CAD Files Explorer, our very own Revit plugin!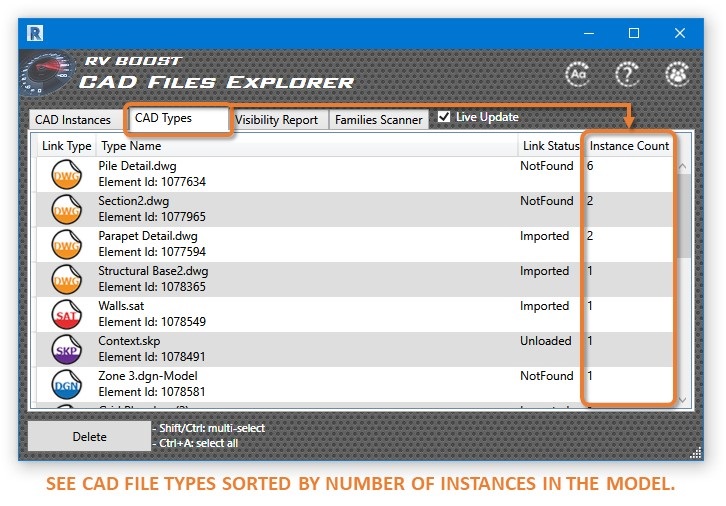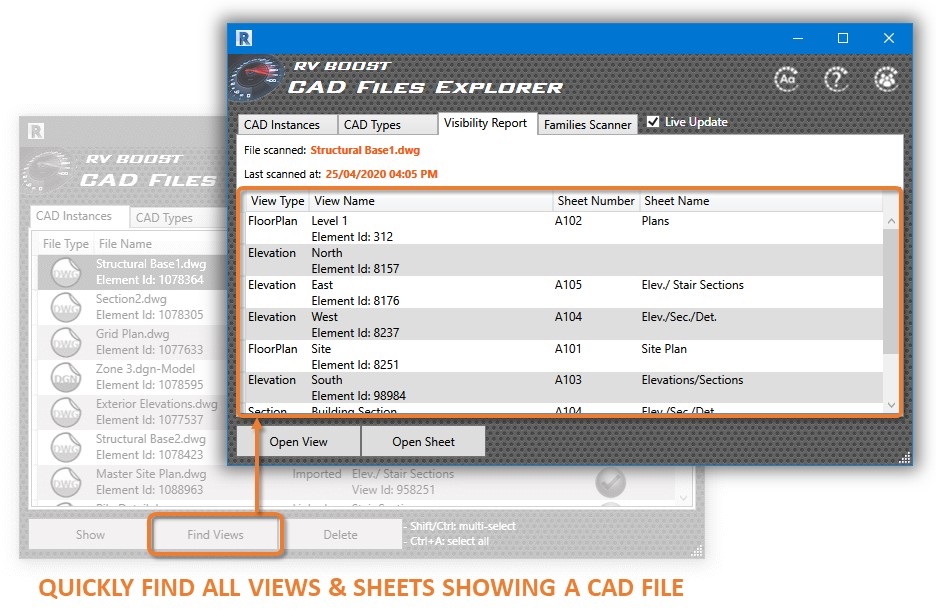 Can't stop learning?
Check out below our free Revit training channel on YouTube!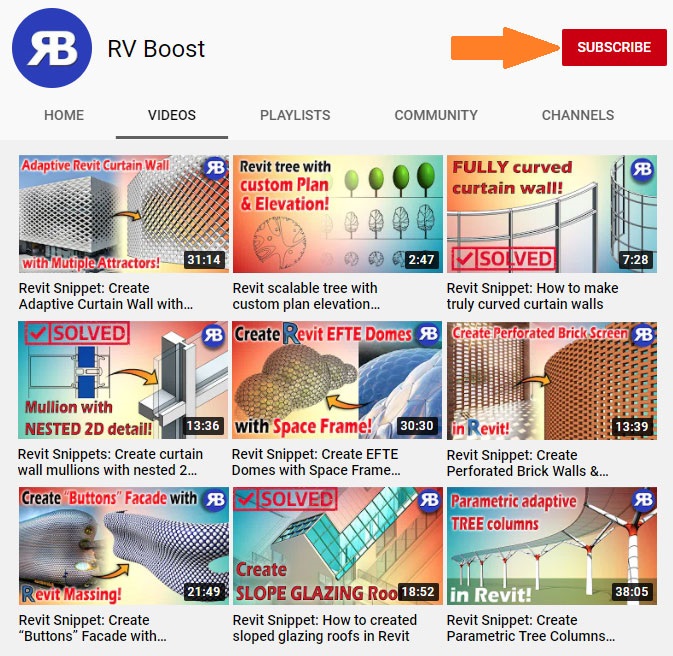 ENJOYED THE TUTORIAL? HERE'S HOW TO ENCOURAGE US TO DO MORE!


Until next time, happy Revit-ing!